Dr. David Bernbaum: Porschefile, retired physician, & MTNester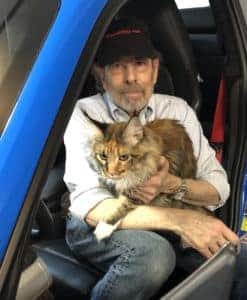 Dr. David Berbaum, a retired Cardiologist and current world-renowned Maine Coon Cat Breeder, is more than just your average Porsche aficionado.
David developed an interest in cars, as a young boy reading magazines like, Car Life, Motor Trend and Road and Track. His first cars were all front-engine, rear-drive beginning with a 1967 427/435 Corvette Ragtop that he had in college at The University of Pennsylvania.
Following medical school at Penn, internal medicine internship and residency and cardiology fellowship, David became a Porsche enthusiast by acquiring his first of the Marque, a 1982 928. This awakening was followed in short order by purchasing a 1984 911 Carrera Cabriolet, which, for better or worse, set the hook quite soundly.
As a Philadelphia native, he grew up in Wyncote, PA and attended Cheltenham High School. He was 15 years old when he met his wife Judy who was 14 years old and a student at the rival Abington School District. Judy is the professionally famous one in the family, being a Professor of Pediatrics at the University of Pennsylvania and a Senior Physician at the Children's Hospital of Philadelphia.
David and Judy have owned more than 25 Porsches over the years. "They have served as my 'getaway,' keeping me grounded through the stress of my extended training and high-pressure practice lifestyle that followed," said David. As a longtime Porsche guru, David has seen the evolution of the iconic 911 and the development of new Porsche models. "Throughout," David explained, "the technicians have always been great: they listen, and work hard to solve the infrequently occurring problem, all the while allowing me to be part of the team."
As a youngster, David was always surrounded by animals. His pets included gerbils, hamsters, dogs and even tropical fish. Now, as Maine Coon cat breeders, David and Judy travel to cat shows around the United States and Europe.
The couple's hobby, the MTNest Maine Coon Cattery, has produced 45 International Winners, including the Best International Kitten and Best International Cat of all breeds in The International Cat Association, along with dozens of Mid-Atlantic Regional Winners. They have also placed Show Cats in the homes of select families in multiple countries on four continents. One of their beautiful females, MTNest Paint To Sample, is this Show Year's Third Best International Cat. Her name was inspired by her striking coloration and their 2017 VooDoo Blue (custom paint) 911 Turbo S Coupe.
David's cats ride in style, traveling to "drivable" shows in his 2016 Cayenne Turbo S, which handles all the required show paraphernalia with ease. David has contemplated "tweaking" the cat competition by arriving at a local show in his 2018 Racing Yellow 911 GT2 RS, whose license plate reads "BSTNSHW," but Judy, his wife and BFF of over 48 years, took the key away!
"The car that I am really looking forward to is the upcoming 2019 911 Speedster," which will be the very last of the 991.2 Series 911's, a limited production GT3 in modified cabriolet guise, "just super!"
Dr. Bernbaum is much more than just a customer at Porsche Conshohocken; he is part of our Porsche Family.