Bill Nye The Science Guy Explains the Porsche Taycan
Bill Nye The Science Guy stars in this 5-part series that highlights what sets the Taycan apart – its battery, clever aerodynamics, regenerative braking, two-speed transmission and repeatable performance.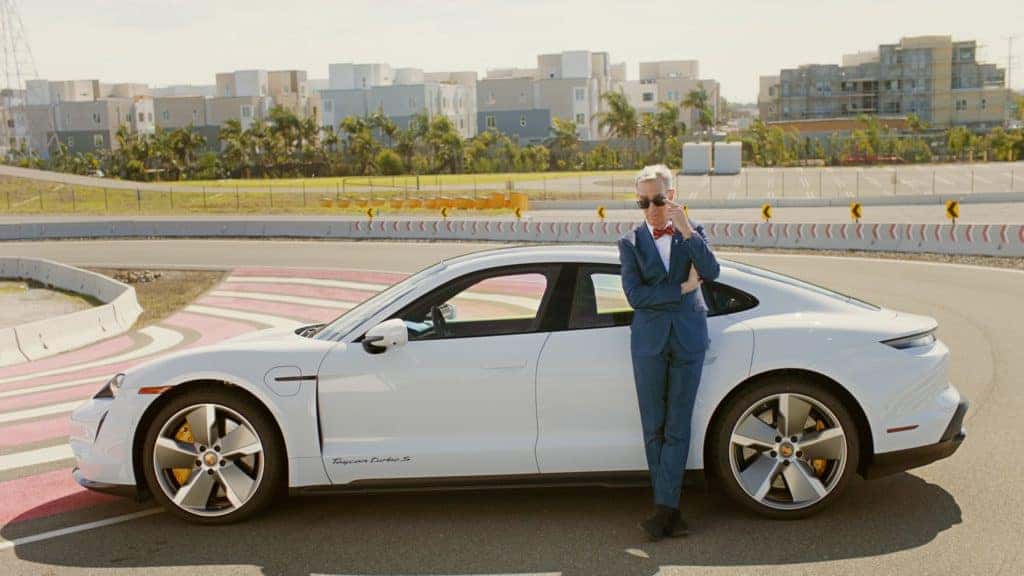 As consumer interest and market share in battery electric vehicles (BEV) continue to grow, many are intrigued by the Porsche Taycan and how it differs from other BEVs. To satisfy that curiosity, Porsche teamed up with the well-known engineer and science educator, Bill Nye The Science Guy, at the Porsche Experience Center Los Angeles to explain the science behind the automakers first all-electric vehicle, the Taycan. Building upon its release of the film, Going The Distance, Porsche Cars North America today released a five-part video series on the Porsche YouTube channel titled, "Bill Nye Explains The All-Electric Taycan".
Throughout the series, viewers will learn about the innovative technology behind the Taycan as well as its one-of-a-kind design and performance features that make it exceptional to drive. Using simple terms, Nye breaks down complex topics, such as the 800-volt battery technology that makes the Taycan unique as well as the added-value of its regenerative braking, two-speed transmission and aerodynamic design.
Watch Bill Nye The Science Guy's 5-Part Series About the Taycan Here:
About The Porsche Taycan Turbo S
The Taycan Turbo S is the flagship of the Taycan model line – capable of accelerating from a standstill to 60 mph in just 2.6 seconds (Taycan Turbo S: CO2 emissions combined 0 g/km, Electricity consumption combined 28.5 kwh/100 km), it's equipped with all-wheel drive and, through its twin electric motors, it can generate up to 750 hp.